New ESG Score added to Portfolio Score ™ & Portfolio Simulator ™
Our suite of analytical tools just got upgraded. For clients who are interested in incorporating an ESG investing strategy into their portfolios, our Portfolio Score tool now has added functionality for portfolio analysis with an Environmental, Social and Governance (ESG) lens.
The ESG score shows how individual stocks or funds are contributing to your Portfolio's overall ESG score, as well as a percentile ranking against the stock or fund's peer group. A Higher ESG score indicates stocks or funds that are better at managing the risks and opportunities associated with ESG factors including pollution prevention, human rights, disclosure practices and more.
For investors looking to make adjustments to their portfolio, our Portfolio Simulator tool also includes the ESG score of your simulated portfolio and compared it to your current portfolio. Try it out today.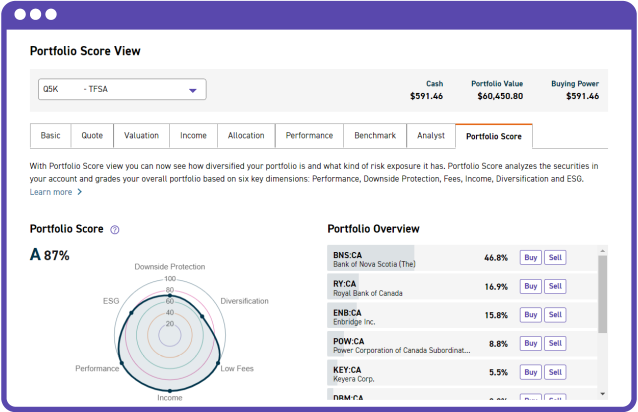 ™ Portfolio Simulator, Portfolio Creator and Portfolio Score are trademarks of Credential Qtrade Securities Inc.